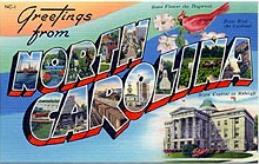 We have now reached over 3,000 names in our database. That means that 3000 members of the North Carolina constiuency have conveyed their opinions to their legislators--helping to convince them that NC needs a moratorium on the death penalty now!
THE GENERIC POST CARD
The generic post card has arrived! If you click on the link below, you can download (as a .pdf) the post card in its generic form. It is designed to be a double-sided document, so please print accordingly.
HOW TO FIGURE OUT HOUSE DISTRICTS
If you're trying to find information on representative's districts for your post cards, the following may help you. These are the ways that I was able to do it the easiest online:
1) If their address is legible and they live in Mecklenburg County, go to
http://maps.co.mecklenburg.nc.us/website/boevie
and input their address. This doesn't always work well, so try one of the other steps if you can't find what you're looking for.
2) If their first and last names are legible and they live in North Carolina, you can go to
http://www.sboe.state.nc.us/
and click on "Check Your Registration". There you can enter their names and pick out which result most closely matches the constituent's information.
5) If they are in Union County and are registered voters (and you have the program Excel), you can download a list of all registered voters who live in Union County, and find their representatives there. The website where that document is located is:
http://www.co.union.nc.us/gov_offices/boe/vote-record.htm
LITERATURE FROM POST CARD DRIVE
The letters found below were distributed with the post card drive materials.